Did you know that nearly 2.5 million people in the United States struggle with drug addiction (and that doesn't even include alcohol)? It's also estimated that around 10 percent of those struggling with addiction actually receive treatment, which leaves 90 percent of addicts to self-medicate and self-treat in far less successful ways.
Although terrifying, addiction is very common in society as people become addicted to drugs and alcohol for a variety of reasons claiming everything from tragic childhoods and unhealthy relationships to high-pressure careers and bad habits as the cause. Whatever the reason, addiction doesn't discriminate when it comes to victims as even some of the world's biggest and most successful celebrities have been affected.
From child stars and musicians to A-list actors and former heartthrobs, we uncovered celebrities whose addictions created a downward spiral from the highest point of their careers down a dark path filled with drugs and alcohol. Are you curious as to who they are, what happened and where they are now? Take a look at these 20 shocking photos of celebs before and after drugs as we start our list with a child piano prodigy and end with the youngest voice of soul.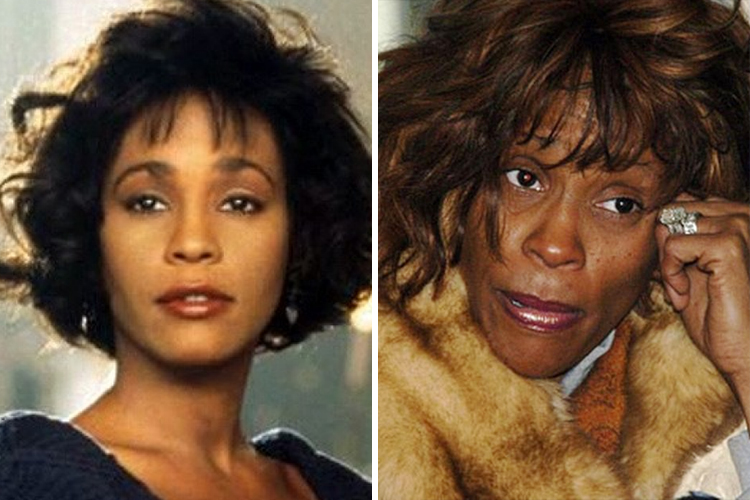 #20 – Fiona Apple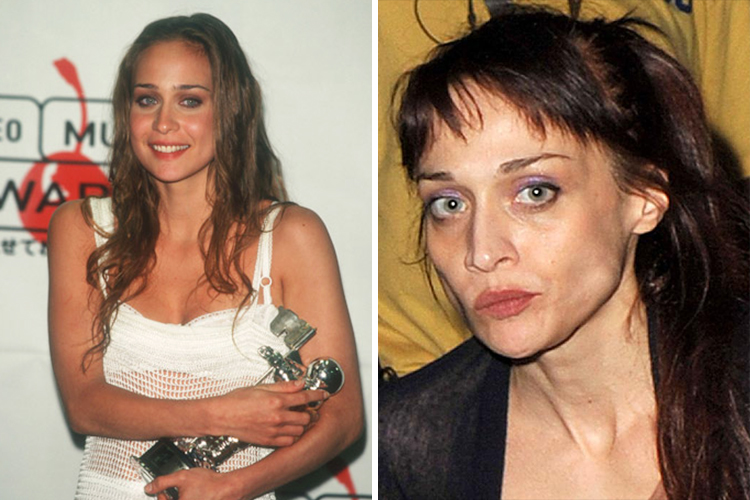 Composing songs of her own at just eight years old, Fiona Apple transitioned from classical pianist and child prodigy to a 1980s music icon after the release of her debut album Tidal in 1996. Winning a Grammy Award for her single "Criminal," Apple was well on her way to stardom as she earned widespread critical praise for albums like When the Pawn (1999), Extraordinary Machine (2005) and The Idler Wheel (2012).
Now 38 years old, the singer-songwriter's climb to the top has been anything but easy. Photographed in her before picture in 1997, fans thought Apple had turned to drugs when she showed up looking extremely thin and fatigued. By 2012, the rumors proved true when Apple was arrested at the Border Patrol checkpoint in Sierra Blanca, Texas for having hashish in her car. Detained at the local county jail, Apple published a letter to her fans the following month explaining that she would postpone her tour dates in South America. Her reasoning – a sick dog – but her fans knew the ugly truth.
#19 – Pete Doherty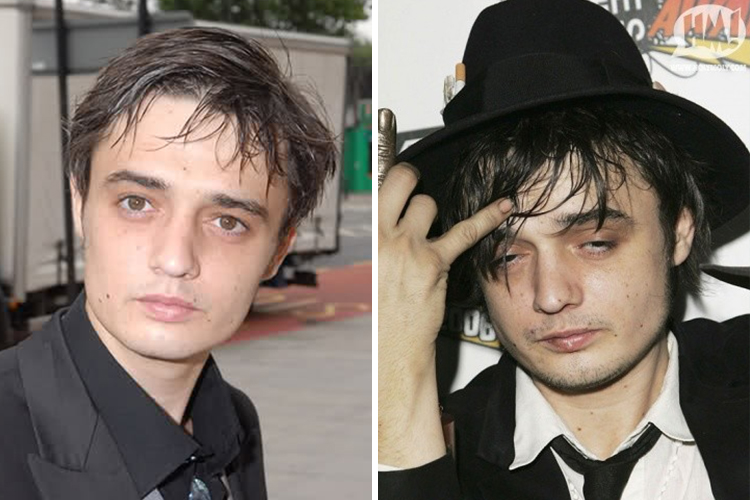 Jumping from the 1980s into the next decade, Pete Doherty gained fame in the 1990s as the co-frontman for The Libertines. Hailing from England, Doherty was also part of an indie band known as the Babyshmables but his music wasn't exactly what led him to the height of fame. In 2005, Doherty stole the spotlight as tabloids and pop culture media outlets lit up with news that he and supermodel Kate Moss (who we'll see later on the list) were dating
Despite the fame from his very public relationship with Moss, Doherty couldn't shake his drug habit which has been easy to document over the years. With a rap sheet a mile long filled with crimes like car theft and possession of marijuana, heroin and crack cocaine, the 36-year-old rocker worked as a drug dealer at one time simply to pay for his drug habit. Needless to say, he's spent his fair share of time in jail and rehab with the latest update coming in January 2015 that he had successfully completed a three-month treatment. We hope he sticks with it!
#18 – DMX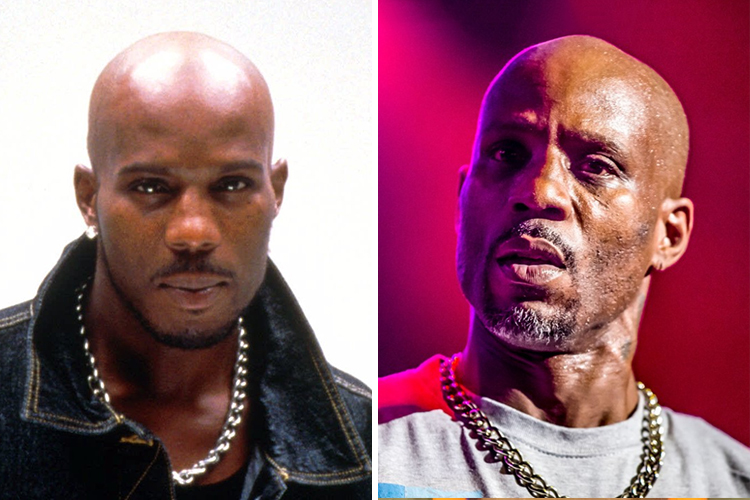 Born in New York in 1970, Earl Simmons is better known by his stage name DMX after launching his career as a beatboxer in 1988. Recording his first demos and releasing his first singles a few years later, DMX stormed onto the scene by 1999 with the release of his solo album And Then There Was X featuring the hit single "Party Up (Up In Here)." Since then, he has expanded his talents as an actor with films like Romeo Must Die, Exit Wounds and Cradle 2 the Grave.
Much like Doherty, the 45-year-old DMX has a long list of problems that stem from his lifelong drug habit. With his first noted run-ins with the law occurring in 1998, DMX has spent the last 17 years in and out of jail for crimes including everything from reckless driving and assault to drug possession and animal cruelty. Incarcerated three times in 2010 and arrested four more times in 2013, DMX has obviously not learned his lesson because, as of December 2015, a warrant was out for his arrest after being sentenced to six months in jail for failure to pay child support. With 12 children, let's hope they have a better role model than DMX.
#17 – Dennis Rodman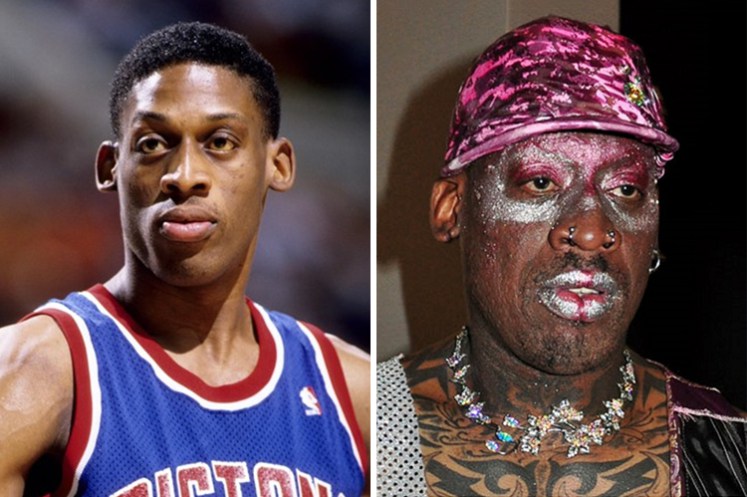 The NBA's favorite bad boy complete with wild hair colors, tattoos and body piercings, Dennis "The Worm" Rodman made a name for himself on the court as one of the best rebounding forwards in NBA history. Playing for teams like the Pistons, Spurs, Bulls, Lakers and Mavericks, Rodman's defensive abilities led him to five NBA Championships, seven All-Defensive First Team honors and two NBA Defensive Player of the Year Awards.
Retiring from basketball in 2006, Rodman's drug and alcohol addiction were publicized after he entered rehab in May 2008. A year later, his problems escalated even further on national television when family and friends staged an intervention as he filmed Celebrity Apprentice. Finally agreeing to work with Dr. Drew on Celebrity Rehab, Rodman's path to sobriety was short-lived. By January 2014, Rodman entered rehab once again after a highly publicized trip to North Korea during which his agent confirmed he had been drinking more than ever before.
#16 – Fergie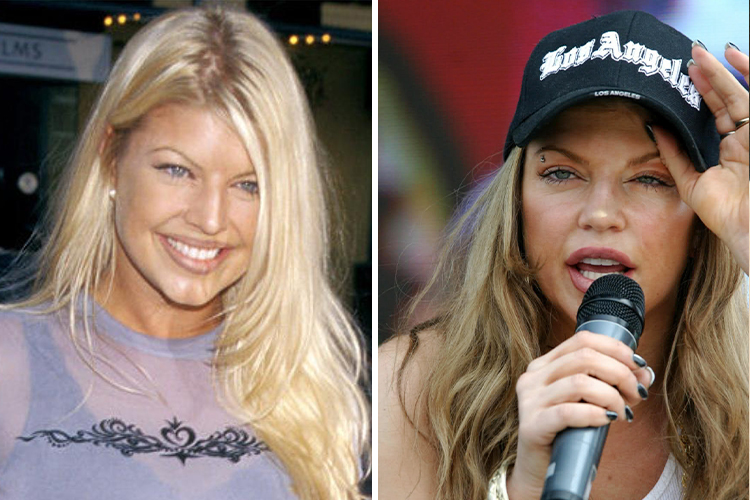 Born as Stacy Ann Ferguson in the hills of California, Fergie is a vital part of The Black Eyed Peas whose megahits like "I Gotta Feeling" and "Meet Me Halfway" have taken the music industry by storm. Long before the Peas, however, Fergie launched her career as a child actor on Kids Incorporated when she was nine years old and later joined an all-girl band in 1992 known as Wild Orchid.
Spending a decade with the band, Fergie left the group in 2002 but took more with her than she ever imagined. During her 2006 interview with Time magazine, Fergie admitted that her time with Wild Orchid led to her crystal meth addiction which crossed over into her early years with The Black Eyed Peas. Having since gotten clean, Fergie said, "It was the hardest boyfriend I ever had to break up with. It's the drug that's addicting but it's why you start doing it in the first place that's interesting." As for Fergie, she said much of it had to do with being a child actor and learning to suppress her feelings at an early age.
#15 – Aaron Carter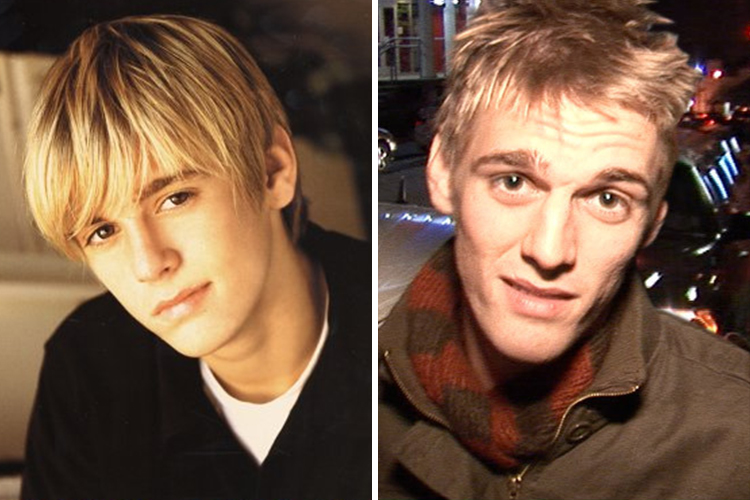 "I never wanna hear your say, 'I want it that way.'" Another teen heartthrob from the 1990s, singer Nick Carter rose to fame with the Backstreet Boys only to have his younger brother, Aaron, cash in on his growing fame when he was 10 years old. By 2000, Aaron had already released his second album, Aaron's Party (Come Get It), that sold three million copies in the United States alone thanks to singles like "I Want Candy" and "That's How I Beat Shaq."
Despite his quick rise to fame as a teen idol, Carter's drug problems started in the mid-2000s when he was first pulled over for speeding and officers found marijuana in his car. Carter seemed to have his addiction in check in 2009 when he appeared on Dancing with the Stars but, by 2011, he admitted himself into the Betty Ford Center for one month as result of a Xanax addiction caused by stage fright from the show. In 2012, Aaron lost his sister to an overdose and has vowed to live clean ever since.
#14 – Lisa Robin Kelly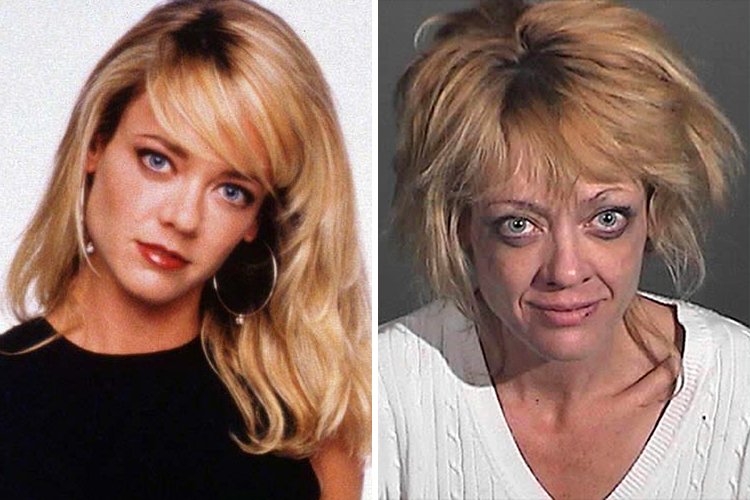 Making her acting debut in a 1992 episode of Married…with Children, Lisa Robin Kelly landed small roles in television shows like Charmed and Silk Stalkings before finally catching her big break in 1998. Cast as Eric's older sister, Laurie Forman, on That 70's Show, Kelly spent nearly three seasons on the series before her character was abruptly written out of the cast. Returning in the fifth season for four episodes, Kelly was later replaced by Christina Moore as a result of a drinking problem she couldn't overcome.
Losing out on the role of her career, Kelly disappeared from the spotlight completely until 2010 when she was arrested for driving under the influence. Sentenced to 12 months of probation, Kelly continued to have legal troubles and was even charged with a felony assault in 2012. Just a year later, Kelly faced a second assault charge as well as a DUI. Months later on August 14, 2013 at only 43 years old, Kelly's life came to a tragic end when she died in her sleep from an overdose while at a California rehab facility.
#13 – Mischa Barton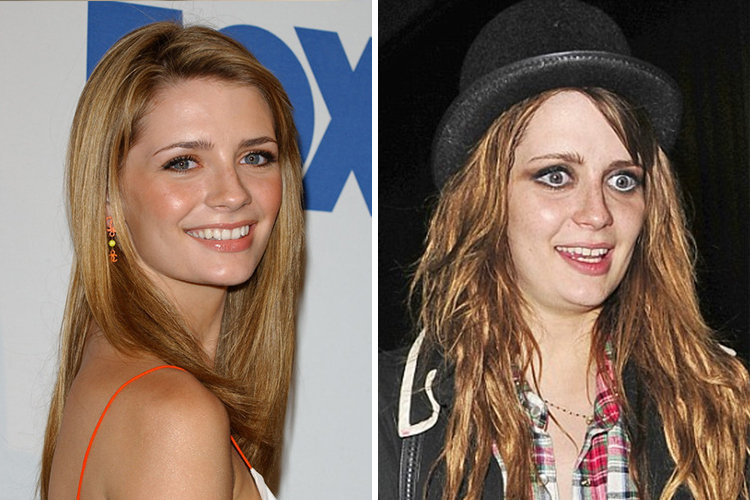 Named the "It Girl" of 2003 by Entertainment Weekly, fans best remember Mischa Barton as Marissa Cooper on the hit television series The O.C. which ran from 2003 until 2006. An overnight success thanks to the show, Hollywood expected Barton to be the next A-list star as she appeared in films like St. Trinian's and Closing the Ring before her life and career began unraveling at the seams.
Much like Lisa Robin Kelly, Barton had trouble finding her footing after The O.C. Two days after Christmas in 2007, she was pulled over and arrested for drunk driving, driving without a valid license and possession of marijuana. A month later, she publicly apologized for the incident only to be charged with two misdemeanors for a DUI and an invalid license shortly after. In 2009, things still hadn't gotten better for the former "It Girl" when she was diagnosed with a mental illness and was admitted into psychiatric care for two weeks leaving many to worry about her mental and physical health.
#12 – Macaulay Culkin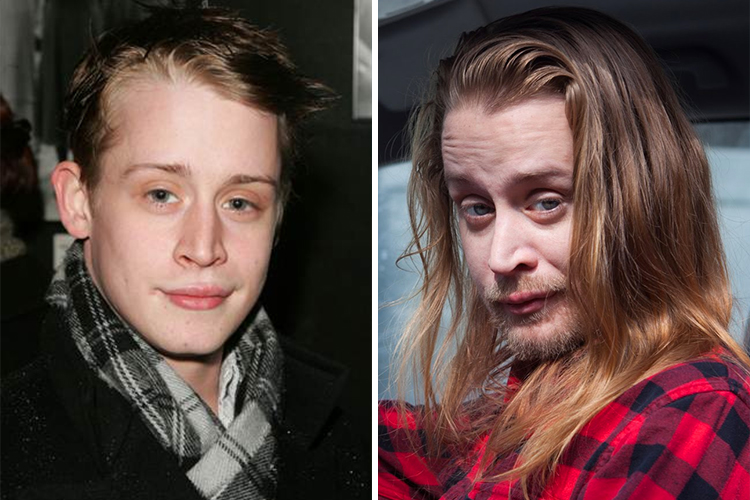 "Merry Christmas, ya filthy animal." Ranked second on VH1's 100 Greatest Kid Stars of All Time only behind Shirley Temple, Macaulay Culkin flexed his acting muscle when he was nine years old opposite John Candy in the 1989 film Uncle Buck. From there, he became the go-to child actor of the 1990s and was cast in hits like My Girl, The Good Son, Richie Rich and fan favorites like Home Alone and Home Alone 2: Lost in New York.
By 2004, Culkin's childhood appeal had long worn off as the then 24-year-old star had gone years without landing a leading role in a hit film. The same year, however, he finally made headlines only this time at the expense of his stardom. Picked up by Oklahoma City police with marijuana, Alprazolam and Clonazepam, Culkin was charged with misdemeanors and pled guilty receiving three one-year suspended prison sentences and over $6,000 in fines. While he seems to be clean these days with his most recent television appearance in 2015 on The Jim Gaffigan Show, this former Hollywood golden boy still remains a mystery.
#11 – Tara Reid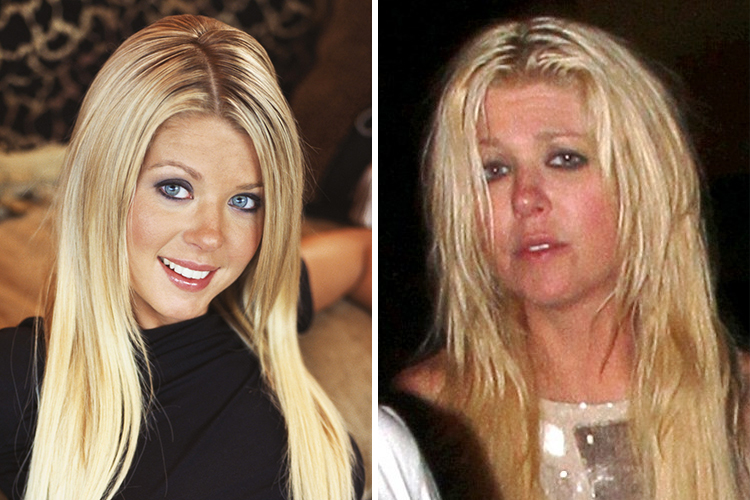 Launching her acting career when she was six years old, Tara Reid became a commercial star as a child but struggled to transition her career to the silver screen. Fortunately for Reid, a minor role in the 1998 cult classic The Big Lebowski was exactly what she needed to turn her career around. Unexpectedly turning heads in the film, the rising star found herself in big roles in blockbuster hits like Urban Legend, American Pie and National Lampoon's Van Wilder.
Unlike many other celebrities on our list, Reid has never confirmed (nor are there any official reports) of her being arrested for drugs or alcohol. However, sources close to the blonde bombshell say that Reid was one of the earliest "celebrity train wrecks" in Hollywood because she didn't care what day of the week it was or even the time, she was always drinking. Although Reid has been through multiple rehab stints over the years, she claims alcohol was her only addiction despite many of her friends saying otherwise.
#10 – Amanda Bynes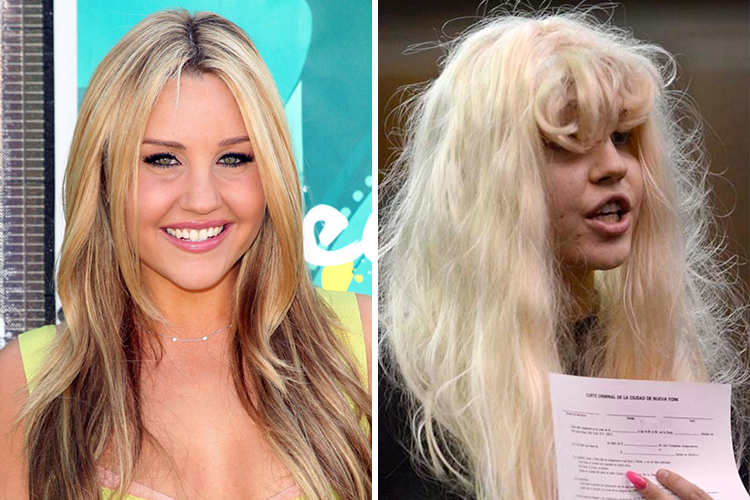 What is it about former child stars and addiction? Giving Nickelodeon much of the credit for her early fame, Amanda Bynes became a household name after starring on the variety show All That. Earning her own show on the network called The Amanda Show, Bynes blossomed as an actress after starring in the hit WB series What I Like About You from 2002 until 2006. With a handful of films including She's the Man and Easy A, Bynes has since called it quits in Hollywood.
Giving the impression as one of the few former child stars who still had her head on straight, Bynes surprised the world with legal troubles that caused her to spiral out of control. Arrested for driving under the influence in 2012 and for two alleged hit and runs, Bynes spent 2013 facing criminal charges for possession of marijuana and tampering with evidence after attempting to throw her bong out the window. Adding in a handful of other drug-related charges and reckless behavior and this former child star has definitely fallen off the deep end.
#9 – Kate Moss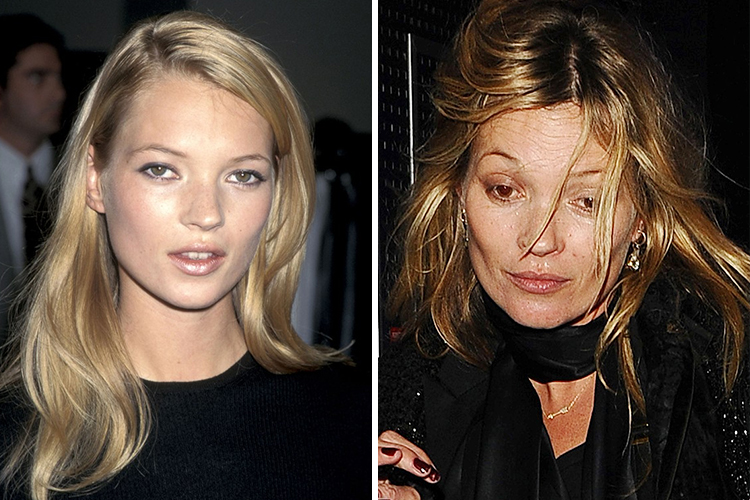 Having first visited Pete Doherty's before and after pictures, we turn now to his ex-girlfriend, English model Kate Moss. Discovered at the age of 14 while standing in the JFK Airport, Moss led the fashion industry in a new movement better known as heroin chic, showcasing extremely thin models who looked naturally strung out on heroin. As Moss landed on the cover of fashion magazines and commercials, little did anyone know she was living true to the heroin chic trend.
Rumors surrounding Moss's drug use surfaced early in her career and were eventually confirmed in 2004 after photographers spotted her using cocaine. Between the drugs, alcohol and a tumultuous relationship with Doherty, Moss became one of the biggest scandals of the year only to have big name brands like Burberry, Chanel and H&M drop $4 million worth of contracts even though the cocaine charges were later dropped. Managing to rebuild, Moss found herself at the top once again in 2012 when Forbes named her second on their list of top-earning models. How's that for making a comeback?
#8 – Whitney Houston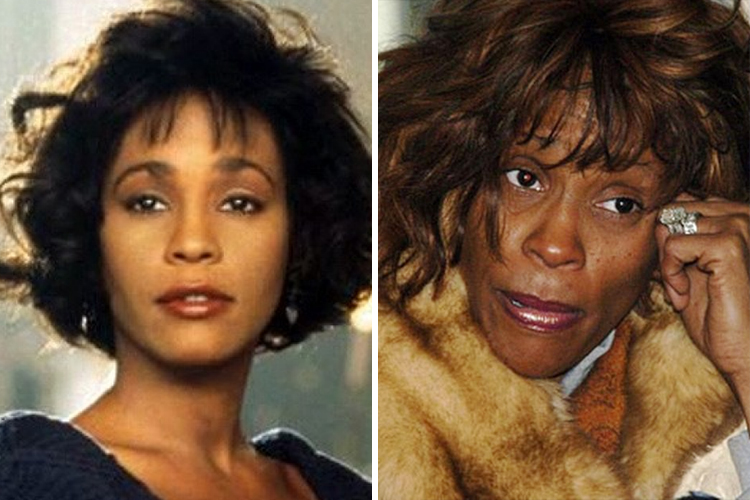 "And I will always love you…" Another trendsetter on the list, Whitney Houston is the most awarded female artist of all time known for her killer vocals in hits like "I Wanna Dance with Somebody," "I Will Always Love You" and "Greatest Love of All." With over 200 million albums sold worldwide and seven consecutive Billboard Hot 100 hits, Houston is one of the highest selling musicians in history making her talent a true legacy.
On a downward spiral thanks in part to her relationship with ex-husband Bobby Brown (stay tuned for more later on the list!), by the new millennium Houston had lost much of her sparkle as she appeared thin and strung out at many public events. While Houston first claimed it was stress from work and her lifestyle, by 2002 she admitted that she had been using a number of drugs including cocaine. Continuing to deny ever using crack cocaine, Houston never managed to get clean. On February 11, 2012, she was found dead in a bathtub at the Beverly Hilton Hotel as a result of heart disease and cocaine use.
#7 – Pamela Anderson
With a beer t-shirt, Jumbo Tron and a Canadian Football League game to thank for the launch of her modeling career, Pamela Anderson was only 23 years old when she first appeared in Playboy. Spending over 22 years gracing the magazine's covers and feature stories, Anderson went on to star in Baywatch only to make even bigger headlines after very public relationships with notorious bad boys like Motley Crue drummer Tommy Lee, singer Kid Rock and poker player Rick Salomon.
While fans were long accustomed to Anderson's ever-growing bust size, her appearance took a different turn in the early 2000s leaving many to assume she was using drugs. Admitting in 2014 that she had been addicted to cocaine and alcohol, Anderson said she often did it to numb the tragic memories of her childhood. Finally entering rehab to get clean, Anderson's sobriety seems to be going well after dumping many of her old friends and relationships that only enabled her wild habits.
#6 – Britney Spears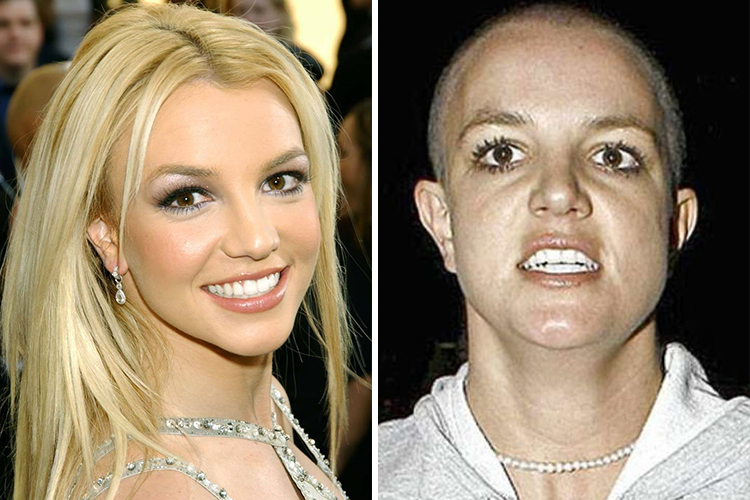 "Hit me baby one more time!" One of the biggest celebrities and music icons on our list, Britney Spears joins the ranks of child stars after launching her career at just eight years old alongside Christina Aguilera, Justin Timberlake and Ryan Gosling on The Mickey Mouse Club. It wasn't long before the 18-year-old Spears released her smash album …Baby One More Time only to follow it up with hit albums like Oops! I Did It Again and Blackout.
Perhaps one of the most public meltdowns on our list, the Princess of Pop's music career came to a complete halt in 2007 after she entered a drug rehab clinic just weeks after her aunt died of cancer. Spending less than a day in the center before leaving, Spears had one of the most famous tabloid shots in media history when she walked into a salon and shaved her head. Soon after, Spears returned to rehab and has managed to make it through a very public rough patch only to establish herself once again as a star.
#5 – Edward Furlong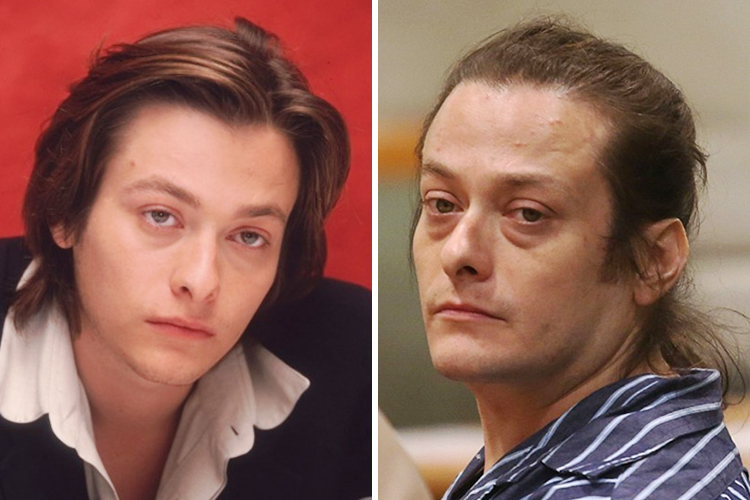 The next and certainly not the last child star on our list, 38-year-old Edward Furlong made his silver screen debut at 14 years old when he was cast as John Conner in Terminator 2: Judgment Day. Earning an MTV Award for his performance, Furlong continued to land roles in successful films like Before and After, American History X and A Home of Our Own.
Though hindsight is 20/20, Furlong could have easily been a huge star in Hollywood today if not for his drug and alcohol problems. Struggling with heroin and cocaine addiction throughout much of the 1990s, Furlong eventually checked himself into rehab in 2000. Unfortunately, his sobriety was short-lived as he had multiple relapses that led to an arrest in 2010. With another arrest to follow in 2013, Furlong avoided jail time when he agreed to 90 days of rehab and 52 weeks of domestic violence counseling. Having already served over two months in jail at the time, Furlong took the sentencing seriously and has managed to stay out of trouble ever since.
#4 – Bobby Brown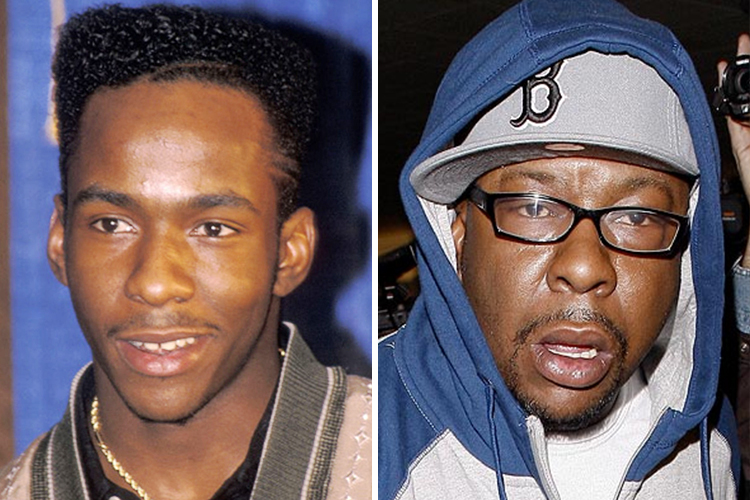 Launching his music career as a lead singer with the R&B boy band New Edition in the early 1980s, Bobby Brown and the group rose to fame with hits like "Cool It Now" and "Candy Girl." Fired from the band in 1986 for his rebellious behavior, Brown ended up getting the last laugh when he became the most famous member of the group after a successful solo career highlighted with hit songs like "My Prerogative." Add in a highly publicized marriage to music legend Whitney Houston and Brown was riding high.
As a teenager, Brown started smoking marijuana but that did little to contribute to his changing appearance over the years. A far cry from the heartthrob he was in the 1980s, Brown's drinking habits transitioned into crack cocaine and heroin use in the 1990s often smoking weed laced with cocaine with Houston. Divorcing Houston in 2007 after years of infidelity, domestic violence and drug use, Brown has since claimed he's stopped using drugs altogether and admits that he's still a drinker. With multiple arrests for drinking under the influence, we can't say we're surprised.
#3 – Lindsay Lohan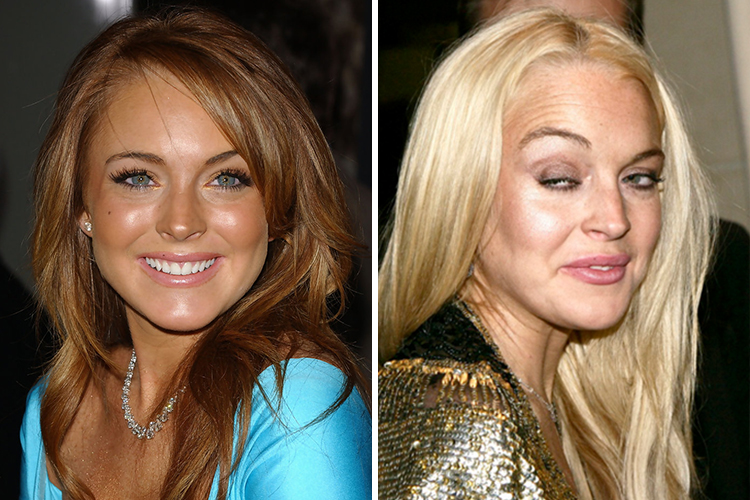 The last child star on our list is 29-year-old Lindsay Lohan who was only 11 years old when she starred as the adorable and mischievous freckle-faced twins in Disney's remake of The Parent Trap. Growing up on camera, Lohan landed starring roles in family friendly films like Freaky Friday and Herbie: Fully Loaded only to become a teen icon and household name thanks to her quintessential hit, Mean Girls, in 2004.
Making her way into the music industry, Lohan's popularity and sanity unraveled for the world to see in 2006 when she was admitted to a California hospital for supposed dehydration. Truth be told, her party-hard lifestyle had finally caught up with her. Arrested twice in 2007 for driving under the influence, Lohan checked into rehab for 45 days only to leave the facility and face another arrest for cocaine possession and driving under the influence. Despite more failed drug tests and stints in rehab, it looks as though Lohan might be back on the right track after making her stage debut in London in 2014.
#2 – George Michael
"Wake me up before you go-go. Don't leave me hanging on like a yo-yo." As pop music looked for a new sound in the 1980s, George Michael and Wham! had just the answer when they pumped out post-disco dance hits like "Careless Whisper" and "Wake Me Up Before You Go-Go." Leaving the band in 1987 to pursue a solo career, Michael earned the reputation as a "blue-eyed soul singer" becoming one of the world's best-selling music artists of all time with albums like Faith and Five Live.
Though Michael's history of drug use remains fuzzy, the first public incident occurred in February 2006 when he was arrested for possession of prescription drugs. Over the next three years, the pattern continued as he was arrested for similar crimes including driving under the influence of drugs. After his most recent arrest in 2010, Michael was sentenced to eight weeks at Highpoint Prison and, after four weeks, was released. Thankfully, jail time seems to have done the trick as he's managed to stay out of trouble ever since.
#1 – Amy Winehouse
Ending our list with an artist who many thought was the new voice of soul, London native Amy Winehouse had one of the most unique voices in music over the past decade. Praised for her blended style of soul, rhythm, blues and jazz, Winehouse became the first British female to win five Grammy Awards thanks to hits like "Rehab,' "Back to Black" and "You Know I'm No Good" – all before the age of 25.

Turning heads in 2005 for more than just her voice, Winehouse worried fans when she arrived to red carpet events and concerts looking much thinner and exhausted. In 2006 when Winehouse's grandmother passed away, things only worsened. A year later, Winehouse canceled a majority of her tour dates in the UK and Europe and was later admitted to a hospital after overdosing on a combination of heroin, cocaine and alcohol. Admitting issues with self-harm and depression, the 2007 wake-up call went unnoticed as Winehouse was found dead just four years later on July 23, 2011 from alcohol poisoning.

For Your Business Advert Inquiries Email:portharcourtcityblog@gmail.com Whatsapp on (+234)8061356726